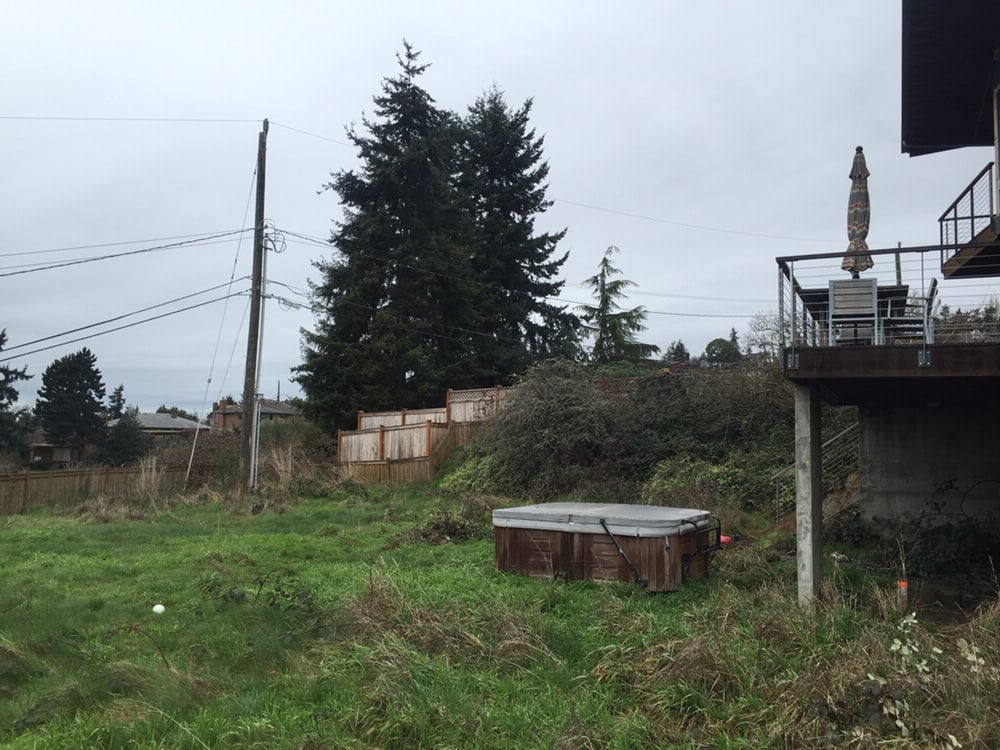 Whether you need a little weeding and lawn maintenance or a full on junk hauling, the All Star Clean Up team is ready to help with your yard cleanup in Renton and beyond.
Our team is well seasoned and fully equipped to handle a wide variety of landscape cleanup services, including leaf removal, bed maintenance, shrub trimming, and much more. Our fully-trained team uses professional grade yard cleaning equipment to make sure that no stone is left unturned.
While backyard cleanups are our most requested services, we also offer front yard clean ups, side yard clean ups, and even clean ups on undeveloped property. It doesn't matter if you have a fully overgrown yard, or if it's just a little rough around the edges.
How Much does Yard Clean Up Cost?
Our yard clean ups are priced based on the size of the yard and severity of the mess.
Give us a a call any time to request a free estimate for our yard cleanup services. We offer yard cleaning in Renton and Auburn to Federal Way and Seattle, so help is never far away. Visit our service area page to learn more, or give us a call to get started today.
Fall & Spring Clean Ups
Our clean up crew is happy to help any time of year, but fall and spring clean ups are by far our most requested services. Call us in advance to get on the calendar, or set up a seasonal clean up plan and put your yard on autopilot. We also offer monthly and weekly yard cleanups for clients who to keep their yard in tip top shape all year long.
Our Yard Clean Up Services
Lawn Clean Up & Lawn Mowing
Mowing and edging your lawn can make a big difference to a neglected yard. No yard clean up service would be complete without a thorough lawn mowing and clean up.
Every lawn needs the occasional weed removal for good health, and your lawn is no exception. Nowadays, weeding can be done either by pulling up weeds by hand, by hoe, or by the application of a chemical weed killer. Using a hoe for the same job can cost up to 20% more than manual removal, but it does a cleaner job. The use of chemicals can be a sensitive affair due to the safety precautions required, but can cut the cost of weed removal by 30-70%.
Flower and Garden Bed Maintenance
Snow during the winter can destroy flower and garden beds, along with their borders, which calls for re-edging, redefining the borders of the bed, and reseeding damaged parts. All Star Clean Up can restore your damaged garden beds and help prevent future damage, too. Call us for flower bed clean up, vegetable garden clean up, and more.
Leaf Removal & Brush Clearing
Leaves constitute most of the yard trash and their quantity is a major factor in determining cleanup cost. Our team will pick them up and remove them from your yard on the same trip.
Shrubs are trimmed to remove unsightly, dying limbs and to promote new growth within the shrub. This service is typically offered as part of our spring cleaning, after the weather has begun to warm up for the year. We can also remove shrubs and bushes during any time of year.
Rain and snowfall can drag all kinds of trash and debris onto your lawn, sometimes hiding it beneath the snow or leaves.
If you don't have the means or the time to dispose of this debris, paying for it to be properly disposed of is the best alternative. Costs depend on the volume of the waste and distance it has to be carted.
Other Cities We Service
Seattle
Covington
Newcastle
Issaquah
And more